Hurricane Maria bears down on Virgin Islands and Puerto Rico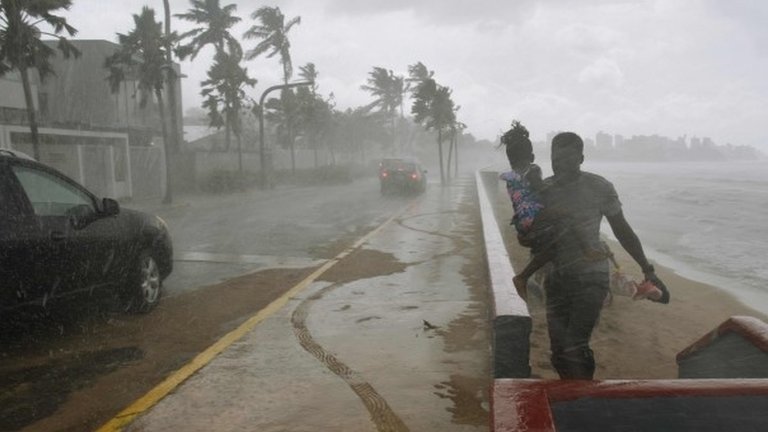 Authors: TheIndianSubcontinent News Agency
Image copyright
AFP
Image caption
Hurricane Maria, the second maximum-strength Atlantic storm of the season, is bearing down on the Virgin Islands and Puerto Rico.
The category five tempest has already inflicted "widespread damage" on the Caribbean island of Dominica.
It briefly weakened to a four but is now again packing top sustained winds of 280km/h (175mph).
The storm is moving roughly along the same track as Irma, this season's other category five hurricane.
The governor of Puerto Rico, a US territory, has told the island's 3.5 million people to seek shelter with the hurricane poised to make landfall around 8am local time (1300 GMT).
Media playback is unsupported on your device
Media caption
Hurricane Maria has hit Dominica and is making its way through the Caribbean
Officials there fear the debris left by Irma earlier this month could now prove extremely dangerous in the winds of Maria.
There are also concerns that heavy rain could cause landslides in some places, and that a predicted storm surge of up to 9 feet (2.7m) could swamp low-lying areas.
Puerto Rico has been a haven for people fleeing other storm-ravaged Caribbean islands in recent weeks.
Hundreds of shelters have been set up by the authorities, but correspondents say the human impact of the storm could depend on how seriously the warnings are taken.
What do we know of the damage on Dominica?
Image copyright
AFP
Image caption
The former British colony, which has a population of 72,000 and is less than 50km long and 25km wide, escaped the worst of Hurricane Irma two weeks ago.
But on Monday the eye of the new category five storm passed directly over. The island has no communications.
The roof of Prime Minister Roosevelt Skerrit's official residence was blown off in the storm.
Media playback is unsupported on your device
Media caption
Hurricane Maria tracks towards Puerto Rico
"My greatest fear for the morning is that we will wake to news of serious physical injury and possible deaths as a result of likely landslides triggered by persistent rains," he said in a Facebook post.
"So far the winds have swept away the roofs of almost every person I have spoken to or otherwise made contact with."
Air and sea ports would probably be "inoperable for a few days", the prime minister added.
Where else has Maria passed?
The French territory of Martinique has been hit by power cuts but is thought to have escaped serious damage.
Media playback is unsupported on your device
Media caption
Footage from Martinique shows early devastating winds
Images show flooding in Guadeloupe while there are reports of flooding, mudslides and power outages in parts of St Lucia.
Local officials said one person was killed by a falling tree in the overseas French territory of Guadeloupe. At least two others were missing after their ship sank near Desirade, the easternmost island in the archipelago.
Officials described weather conditions as "very bad" with violent winds. About 80,000 homes were without power there, a government statement said.
Where next?
A storm surge - rising seawater coming in from the coast - is expected to bring "life-threatening" swells of up to 9ft (2.7m) above ground in the US and British Virgin Islands and Puerto Rico, National Hurricane Center forecasters said.
Heavy rainfall of around 25in (63cm) was expected near Puerto Rico and up to 20in in the US and British Virgin Islands.
Puerto Rico's public safety commissioner, Hector Pesquera, issued a stern warning to island residents.
"You have to evacuate. Otherwise, you're going to die," he said. "I don't know how to make this any clearer."
Puerto Rico Governor Ricardo Rossello warned the storm could be "devastating and catastrophic", adding that he expected to lose a lot of infrastructure.
Tropical storm warnings were issued for Antigua and Barbuda, Saba, St Eustatius, St Martin, Anguilla and Martinique.
UK territories prepare for worst
How did Maria gather strength so fast?
Maria jumped from a category three to a top-strength category five within just a few hours on Monday, which was a shock for people in Dominica.
Media playback is unsupported on your device
Media caption
Why are there so many hurricanes? The BBC's David Shukman explains
A factor in its rapid development is that local sea surface temperatures are currently anomalously high by a margin of around one to two degrees, says BBC weather forecaster Steve Cleaton.
The elevated sea surface temperature will have contributed to the rapid development of this system, in concert with other very favourable atmospheric conditions within the locale such as low wind shear, our meteorologist adds.
Will Irma relief work be affected?
Some islands in Maria's path escaped the worst of Hurricane Irma and have been used as bases to distribute relief to places that were not so fortunate.
Now there are concerns that this work could be jeopardised if they are badly hit, too.
Image copyright
AFP / Getty Images
Image caption
Guadeloupe has been a bridgehead for aid going to Irma-hit French territories, while Puerto Rico has also been offering crucial assistance to its neighbours.
Overseas forces mobilise
Britain, France, the US and the Netherlands all have overseas territories in the Caribbean.
The British government said more than 1,300 troops were staying put in the region and an additional military team had been deployed. A 42-strong military resilience team has also been deployed to the British Virgin Islands.
Media playback is unsupported on your device
Media caption
Watch
: The islanders caught between hurricanes
French Interior Minister Gerard Collomb told AFP that 110 more soldiers would be sent to the region to reinforce about 3,000 people already there.
The Dutch navy tweeted that troops were heading to Saba and St Eustatius to bolster security amid fears of potential looting.
US President Donald Trump has declared a state of emergency for Puerto Rico and the US Virgin Islands, where the US military has been evacuating personnel.
---
Are you in an area affected by Hurricane Maria? If it's safe to do so, you can share your experience by emailing This email address is being protected from spambots. You need JavaScript enabled to view it. .
Please include a contact number if you are willing to speak to a BBC journalist. You can also contact us in the following ways:
WhatsApp: +44 7555 173285
Send pictures/video to

This email address is being protected from spambots. You need JavaScript enabled to view it.

Upload your pictures / video here
Tweet: @BBC_HaveYourSay
Text an SMS or MMS to 61124 (UK) or +44 7624 800 100 (international)